Comes with inserts!
Comes with everything you need to use it right away.
-You can exchange inserts to do R-and C-chamfering, and exchange the optional guide plate to perform all kinds of other work.
-With a throwaway system, inserts can be used with 4 corners when R-chamfering and 8 back and front corners when C-chamfering, keeping costs low.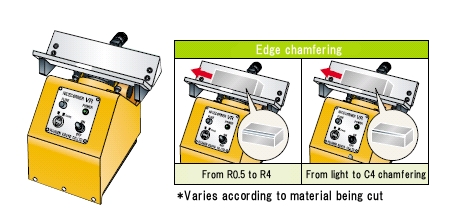 ■Main unit
| | |
| --- | --- |
| Model no. | VR/VR-400 |
| Power | 100V(200W) |
| Number of revolutions | 3,000/3,600r.p.m. 50/60Hz |
| Dimentions | W300×D360×H300mm |
| Weight | 27kg |
| Guide plate | R-300/R-400 |
| Inserts | N43GXR NK2020(3) |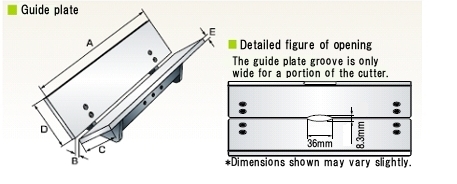 ■Compatible inserts
Material being cut
Recommended insert model no.
for R-chamfering
for C-chamfering
Regular steel
N43GXR NK2020
N43GXR NK2001
Alloy steel
N43GXR NK2020
N43GXR NK2001
Stainless steel
N43GXR NK6060
N43GXR NK6060
Aluminum, resin, brass
N43GXR NK1010
N43GUR NK1010
Cast iron
N43GXR NK1010
N43MOZ NK1010
■Guide plate
| | | | | | | | | |
| --- | --- | --- | --- | --- | --- | --- | --- | --- |
| Model no. | A | B | C | D | E | Possible work thickness | Maximum C face | Ultra-hard chrome coating |
| R-300 | 300 | 1 | 75 | 75 | 12 | 1.5mm or more | MAX4C | ○ |
| R-400 | 400 | 1 | 75 | 75 | 12 | 1.5mm or more | MAX4C | ○ |

■Special cutter (comes with main unit)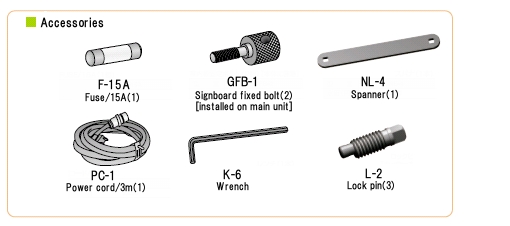 ■Accessories
| | |
| --- | --- |
| Model no. | |
| K-6 | Wrench(1) |
| F-15A(1) | Fuse/15A |
| L-2 | Lock pin(12) |
| GFB-1 | Signboard fixed bolt(2)[installed on main unit] |
| NL-4 | Spanner(1) |
| PC-1 | Power cord/3m(1) |
■Insert details
Model no.
Material
Coating
Insert shape
Number of corners used
Number per case
N43GXR NK2001
Cermet
None
R1・2・3・4
4
12
N43GXR NK1010
Ultra-hard K10 type
None
R1・2・3・4
4
12
N43GXR NK2020
Ultra-hard M20 type
None
R1・2・3・4
4
12
N43GXR NK6060
Ultra-hard M20 type
TiAlN
R1・2・3・4
4
12
N43GXR-1R NK2001
Cermet
None
Any corner,
same R
4
12
N43GXR-2R NK2001
Cermet
None
4
12
N43GXR-3R NK2001
Cermet
None
4
12
N43GXR-4R NK2001
Cermet
None
4
12
N43GXR-1R NK2020
Ultra-hard M20 type
None
4
12
N43GXR-2R NK2020
Ultra-hard M20 type
None
4
12
N43GXR-3R NK2020
Ultra-hard M20 type
None
4
12
N43GXR-4R NK2020
Ultra-hard M20 type
None
4
12
N43GXR-1R NK6060
Ultra-hard M20 type
TiAlN
4
12
N43GXR-2R NK6060
Ultra-hard M20 type
TiAlN
4
12
N43GXR-3R NK6060
Ultra-hard M20 type
TiAlN
4
12
N43GXR-4R NK6060
Ultra-hard M20 type
TiAlN
4
12
*N43GXR-0.5R NK2020
Ultra-hard M20 type
None
4
12
*N43GXR-0.75R NK2020
Ultra-hard M20 type
None
4
12
*N43GXR-1.5R NK2020
Ultra-hard M20 type
None
4
12
*N43GXR-2.5R NK2020
Ultra-hard M20 type
None
4
12
*N43GXR-3.5R NK2020
Ultra-hard M20 type
None
4
12
*N43GXR-4.5R NK2020
Ultra-hard M20 type
None
4
12
*N43GXR-5R NK2020
Ultra-hard M20 type
None
4
12
N43MOZ NK2001
Cermet
None
Honing edge
8
12
N43MOZ NK1010
Ultra-hard K10 type
None
Sharp edge
8
12
N43MOZ NK2020
Ultra-hard M20 type
None
Honing edge
8
12
N43MOZ NK3030
Ultra-hard M20 type
TiN
Honing edge
8
12
N43MOZ NK6060
Ultra-hard M20 type
TiAlN
Honing edge
8
12
N43GUR NK2001
Cermet
None
Honing edge
8
12
N43GUR NK1010
Ultra-hard K10 type
None
Sharp edge
8
12
N43GUR NK2020
Ultra-hard M20 type
None
Honing edge
8
12
N43GUR NK3030
Ultra-hard M20 type
TiN
Honing edge
8
12
N43GUR NK6060
Ultra-hard M20 type
TiAlN
Honing edge
8
12
N43GUR NK8080
Ultra-hard K10 type
TiAlN
Sharp edge
8
12
                  *Semi-standard