Comes with inserts!
Comes with everything you need to use it right away.
-With a four-blade throwaway system, inserts can be used on 8 back corners for low cost.
-Because it uses a face cutter, the same finish as a fraise can be achieved, and by exchanging the optional plate, all kinds of work becomes possible.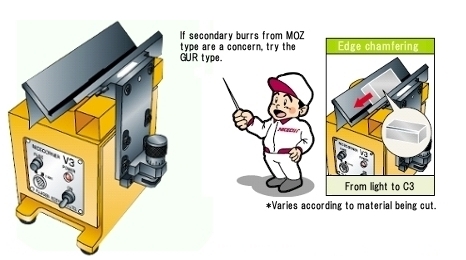 ¡Main unit
| | |
| --- | --- |
| Model no. | V3-L250/V3-L250T(for thin plates) |
| Power | 100V(200W) |
| Number of revolutions | 3,000/3,600r.p.m. 50/60Hz |
| Dimentions | W225~D250~H300mm |
| Weight | 17kg |
| Guide plate | L-250/L-250T |
| Inserts | S32MOZ NK2001(4) |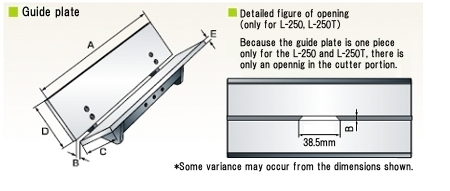 ¡Compatible inserts
| | |
| --- | --- |
| Material being cut | Recommended insert model no. |
| Regular steel | S32MOZ NK2001 |
| Alloy steel | S32MOZ NK2001 |
| Stainless steel | S32GUR NK6060 |
| Aluminum, resin, brass | S32GUR NK1010 |
| Cast iron | S32MOZ NK1010 |
¡Guide plate
| | | | | | | | | |
| --- | --- | --- | --- | --- | --- | --- | --- | --- |
| Model no. | A | B | C | D | E | Possible work thickness | Maximum C face | Ultra-hard chrome coating |
| L-250 | 250 | 5 | 55 | 55 | 10 | 6mm or more | MAX3C | |
| L-250T | 250 | 2 | 55 | 55 | 10 | 1.5mm or more | MAX1C | |
| L-300 | 300 | 8 | 75 | 75 | 12 | 10mm or more | MAX3C | › |
| L-300T | 300 | 2.5 | 75 | 75 | 12 | 2.5mm or more | MAX1C | › |
| L-400 | 400 | 8 | 100 | 100 | 12 | 10mm or more | MAX3C | › |
| L-400T | 400 | 2.5 | 100 | 100 | 12 | 2.5mm or more | MAX2.5C | › |
¡Special cutter (comes with main unit)

¡Accessories
| | |
| --- | --- |
| Model no. | |
| K-6 | Wrench(1) |
| F-15A(1) | Fuse/15A |
| NL-4 | Spanner(1) |
| L-1 | Lock pin(12) |
| PC-1 | Power cord/3m(1) |
¡Insert details
| | | | | | |
| --- | --- | --- | --- | --- | --- |
| Model no. | Material | Edge shape | Coating | Number of corners used | Number per case |
| S32MOZ NK2001 | Cermet | Honing edge | None | 8 | 12 |
| S32MOZ NK2050 | Cermet | Honing edge | None | 8 | 12 |
| S32MOZ NK1010 | Ultra-hard K10 type | Sharp edge | None | 8 | 12 |
| S32MOZ NK2020 | Ultra-hard M20 type | Honing edge | None | 8 | 12 |
| S32MOZ NK3030 | Ultra-hard M20 type | Honing edge | TiN | 8 | 12 |
| S32MOZ NK6060 | Ultra-hard M20 type | Honing edge | TiAlN | 8 | 12 |
| S32MOZ AC15T | Fine grain ultra-hard | Honing edge | AlCrN | 8 | 12 |
| S32GUR NK2001 | Cermet | Honing edge | None | 8 | 12 |
| S32GUR NK1010 | Ultra-hard K10 type | Sharp edge | None | 8 | 12 |
| S32GUR NK2020 | Ultra-hard M20 type | Honing edge | None | 8 | 12 |
| S32GUR NK3030 | Ultra-hard M20 type | Honing edge | TiN | 8 | 12 |
| S32GUR NK5050 | Ultra-hard K10 type | Sharp edge | TiN | 8 | 12 |
| S32GUR NK6060 | Ultra-hard M20 type | Honing edge | TiAlN | 8 | 12 |
| S32GUR NK8080 | Ultra-hard K10 type | Sharp edge | TiAlN | 8 | 12 |
| S32GUR DIA | Sintered diamond | - | None | 1 | 1 |