Comes with inserts!
Comes with everything you need to use it right away.
-Greatly increased speed with 12 blades.Has little cutting resistance or jumping, even with small jobs.
-You can externally chamfer bars or pipes, and keep costs low because insetrs can be used on the back too.
-With the optional guide plate, you can handle all kinds of additional work.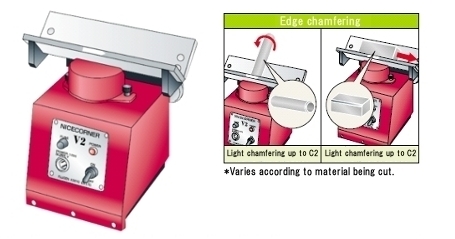 ¡Main unit
| | |
| --- | --- |
| Model no. | V2 |
| Power | 100V(200W) |
| Number of revolutions | 3,000/3,600r.p.m. 50/60Hz |
| Dimentions | W300~D280~H300mm |
| Weight | 26kg |
| Guide plate | V2L-300 |
| Inserts | S32GQZ NK2020(12) |

¡Compatible inserts
| | |
| --- | --- |
| Material being cut | Recommended insert model no. |
| Regular steel | S32GQZ NK2001 |
| Alloy steel | S32GQZ NK2001 |
| Stainless steel | S32GQZ NK6060 |
| Aluminum, resin, brass | S32GQZ NK2020 |
| Cast iron | S32GQZ NK2001 |
¡Guide plate
| | | | | | | | | |
| --- | --- | --- | --- | --- | --- | --- | --- | --- |
| Model no. | A | B | C | D | E | Possible work thickness | Maximum C face | Ultra-hard chrome coating |
| V2L-300 | 300 | 1 | 75 | 65 | 12 | 3mm or more | MAX2C | › |

¡Special cutter (comes with main unit)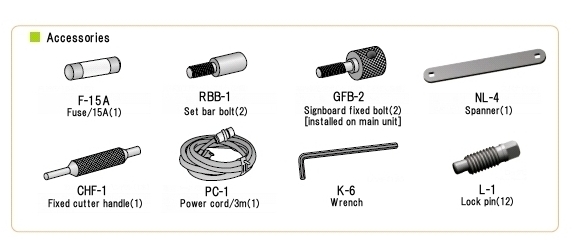 ¡Accessories
| | |
| --- | --- |
| Model no. | |
| K-6 | Wrench(1) |
| F-15A(1) | Fuse/15A |
| RBB-1 | Set bar bolt(2) |
| GFB-2 | Signboard fixed bolt(2)[installed on main unit] |
| NL-4 | Spanner(1) |
| L-1 | Lock pin(12) |
| CHF-1 | Fixed cutter handle(1) |
| PC-1 | Power cord/3m(1) |
¡Insert details
| | | | | | |
| --- | --- | --- | --- | --- | --- |
| Model no. | Material | Edge shape | Coating | Number of corners used | Number per case |
| S32GQZ NK2001 | Cermet | Honing edge | None | 16 | 12 |
| S32GQZ NK2020 | Ultra-hard M20 type | Honing edge | None | 16 | 12 |
| S32GQZ NK6060 | Ultra-hard M20 type | Honing edge | TiAlN | 16 | 12 |